RANDOM STUFF...
MAMA Clothing
, where I intern (more details about that in a later post), was featured in
MissBehave Magazine
(sister mag to
Mass Appeal
). The magazine gives props to the New Era lids MAMA just dropped. Mine's the black one shown in the picture below. It's called "Coco" and is a tribute to Coco Chanel...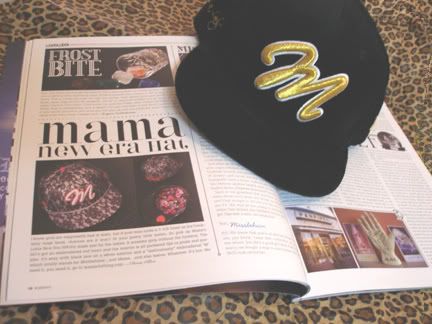 Mags I'm reading:
Mass Appeal
,
Fader
,
MissBehave Magazine
,
Swindle
, and my favorite,
Wax Poetics
.
Some Thirft Store buys (all for less than $20!): Yellow cardigan-shrug thing by Koi Koi (?), Stussy T that says, "Stussy: Worldwide Stick Ball Champs", a Dali's Mustache book for my friend
Emic
(SURPRISE!), and a killer green vintage wool coat. YAY for Thrift stores!