THRIFTIN'
This past Sunday
Bekka
(my roommate/friend/partner in crime) and I set out to the Castro for an afternoon of thriftin'. First stop, Out of the Closet on Church Street. This is what I came up on:
Found an issue of
Baseline Magazine
(an international typographics magazine from the UK) from 2002 in pretty good condition. They're always inspiring. This issue has an article on old razor box graphics. Doooope. It was a good day for a graphic designer. I also found "Graphic Design: A Concise History" by Richard Hollis. I came up on an old United Airline map from the 60s and that orange thing in the middle is an old label maker. For 39 cents thought it may come in handy for a future project along with that map.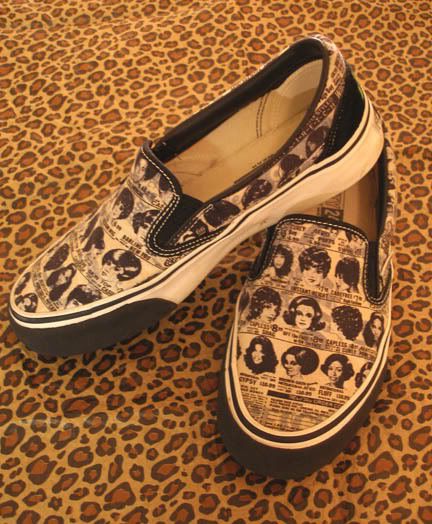 Bought these suckas for $7! There's nothing wrong with them! They're
FIFTY24SF
shoes and
Upper Playground
sells/sold them for $60! Check out those graphics!
After Out of the Closet we made our way to Crossroads Trading Company on Market. I bought some jackets and a shirt there. Nothing too great and exciting but definitely stuff I'll have in my closet for a while. Overall, I had a good day. I need these days now. I know there are going to be less of them when school starts up again in a couple of weeks.