A HIGHER POWER DOES EXIST!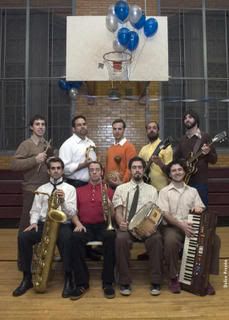 I was listening to
Budos Band
(
Daptone Records
) about an hour ago and thought to myself, "When's Budos coming to SF, damnit!" and about 10 minutes ago I go to Myspace and there's a bulletin about them coming to the
Boom Boom Room
(one of my favorite spots in the city)! After getting a little vaklempt and almost schmutzing myself (yea, I know..very lady-like) I check my calendar for the 16th & 17th - CLEAR (yea, I'm not that popular, haha)!
I'm
SOFA KING
THERE! WHO'S COMING WITH ME?!
Check the info below!
BUDOS BAND
West Coast Tour
Two Dates in SF!
Friday, February 16th 10:00pm
Saturday February 17th 10:00pm
Boom Boom Room
1601 Fillmore St
San Francisco, CA 94115
BoomBoomRoomblues.com
Price: $15