NEW BOOKS (and a DVD)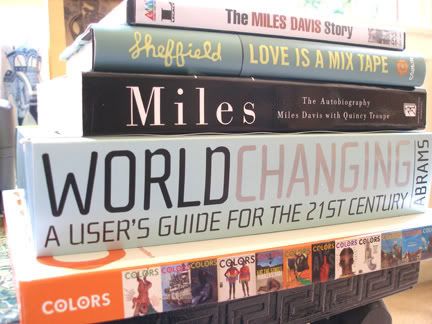 1.
The Miles Davis Story (DVD)
by George Avakian, Ian Carr, Don Carter (II), and Ron Carter
2.
Love is a Mixtape
by Rob Sheffield.
3.
Miles: The Autobiography
by Miles Davis and Quincy Troupe.
(This is a customer image from Amazon.com...thought it was too beautiful not to share.)
4.
Worldchanging: A User's Guide for the 21st Century
by Alex Steffen (Author), Al Gore (Foreword), Bruce Sterling (Introduction).
5.
Colors: Tibor Kalman, Issues 1-13
by Tibor Kalman (Author), Maira Kalman (Author).
*sigh*...I really need a bookcase.
:)